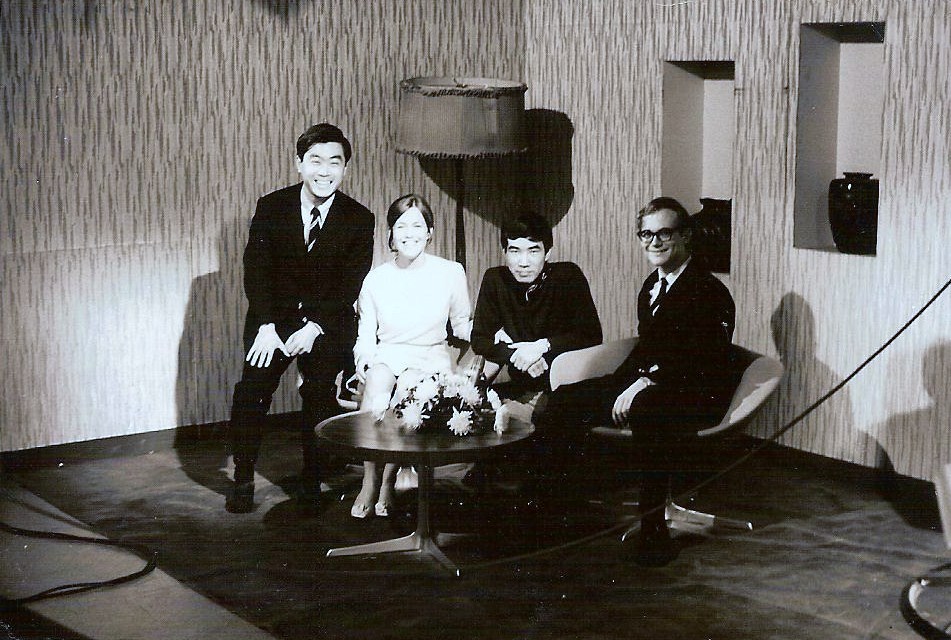 昭和45年スタジオにて (左から2人目)ジェーン・ファーガソンさん(左)ジェーン・ファーガソンさんのご主人丹羽敏之さん
Good Things Come in Small Package
Jane Ferguson Niwa(昭和43年~45年、「英語会話初級」ゲスト、現在マレーシア在住)
I had the honor of working with Tazaki-sensei on his NHK Eikaiwa program in the late 1960s as his 'native English speaker'; over 40 years ago, and yet the excitement of that time is still very fresh in my mind even today.

After having a meal at the NHK cafeteria with characters in full make-up and dress from other shows such as Chuushin Gura and Taiga Dramas, we would then prepare ourselves for our program. I was always a bit anxious about remembering my script, but Tazaki-sensei would breeze in with a broad smile and some jokes, dispelling any nerves I had. He brought positive energy and extraordinary enthusiasm to each and every show.

Tazaki-sensei was proof that "good things come in small packages." He brought a depth and breadth and dynamism both to his work and to the way he lived. Tazaki-sensei seemed to embody both yin and yan:

● His program format was organized, yet he appeared to be free-flowing and natural in his presentation.

● He was a meticulous planner and author, but at the same time, he was very creative and poetic.

● Tazaki-sensei embraced foreigners, and had a disarming understanding of and interest in western culture. His understanding of inference and his use of idiomatic English was phenomenal. At the same time, he took great pride in sharing anything 'Japanese'. He cherished his rich Japanese heritage as well as the nuances of the Japanese culture.

Thru Carolyn's Eyes, a magical series of Eikaiwa programs written by Tazaki-sensei, was set in Kyoto. Through these, he captured the beauty and idiosyncrasies of Japan through the eyes of a foreigner. It was an ingenious way to teach English but with Japan as the background and the focus. We traveled to Kyoto by bullet train. That in itself was magic to me, as it was the first time I had ever ridden on the 'Green Sha'. Tazaki-sensei was battling a high fever during the train ride, but his determination--plus a lot of kusuri--fortified him well enough to finish the series.

In 1971, I left Japan to travel with my Japanese husband whose work with the United Nations took us all over the world. We often frequented Tokyo Airport . Each time, I passed quickly through Immigration because all of the immigration officers knew who I was. . . I was their English teacher. Not only was I 'famous' with immigration, but all the JAL stewardesses knew me as well. Tazaki-sensei's influence was far and wide. He was everyone's English teacher every day.

Later in my life, when we returned to the United States in the 1990s, I continued my work as an ESL (English) teacher. Many of my students were Japanese and their grandparents still remembered Tazaki-sensei's English program!

Tazaki-sensei was a pioneer in opening the world to his countrymen. As a foreigner, he also opened my eyes to the beauty of Japan. This is the epitome of a true 'goodwill ambassador'. Thank you, Tazaki-sensei, for the opportunity to work with you. That experience not only affected the lives of many of your countrymen, but affected my life as well. Kokoro kara, arigatoo gozaimashita.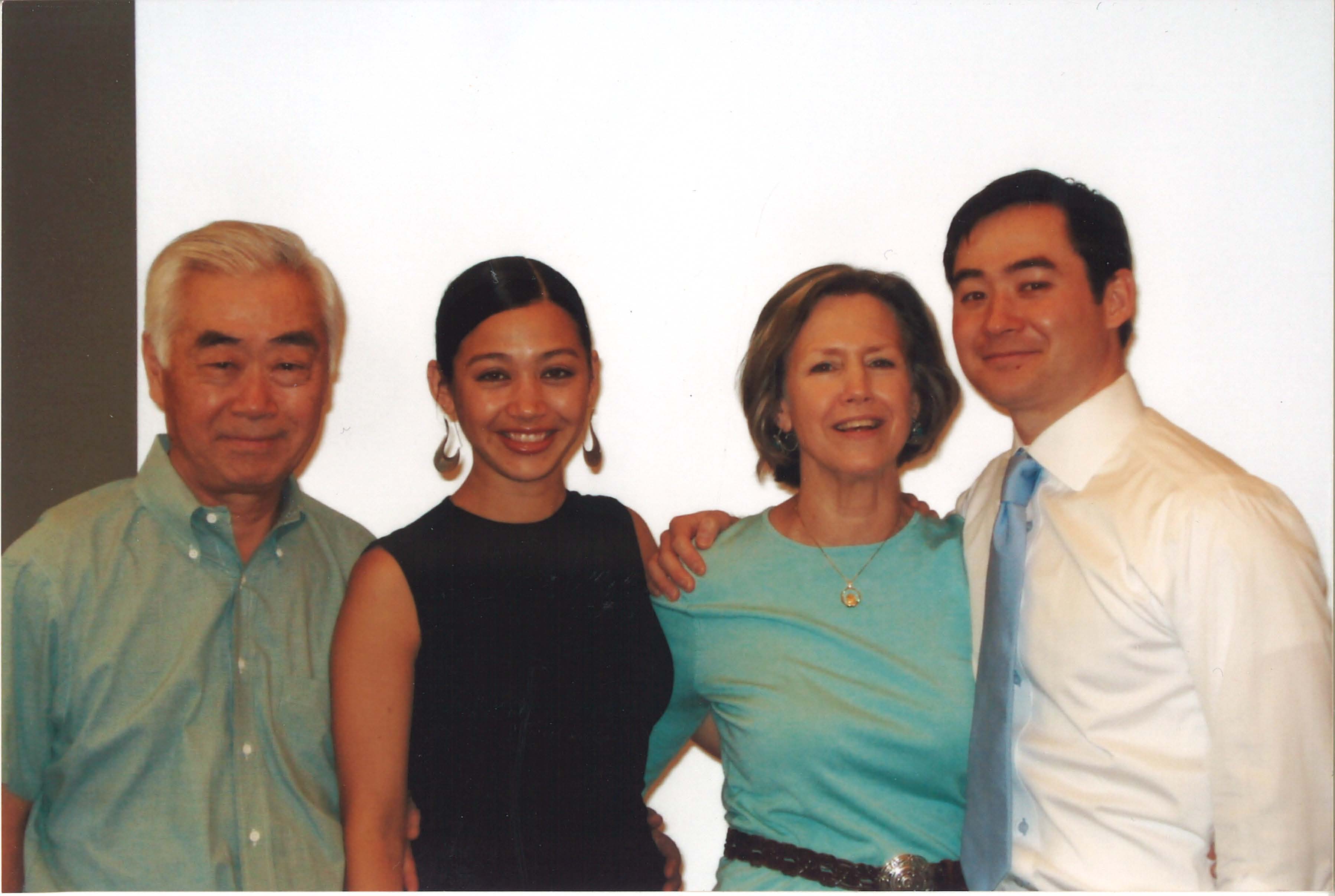 マレーシアの丹羽夫妻 (右から2人目)ジェーン・ファーガソンさん(左)ご主人の丹羽敏之さん